6 days old, Dr visit and first group meeting
Friday, 6 days old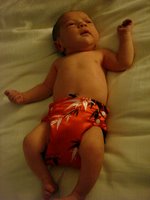 Today was quite a busy day! We first went to the doctor for our weight check and with the Hawaiian diaper on, he weighed 8lbs 1oz! There is no way he put on that much weight in 3 days, but obviously he is heading the right direction as far as weight is concerned. The doctor was quite pleased with his progress.
We have been working with Ruthy, a LC, over the past 3 days to get my supply up so we do not need to supplement. Ethan has been eating exclusively from a bottle since we have been home, but it has been filled with expressed milk. So he is getting the good stuff. At this point, he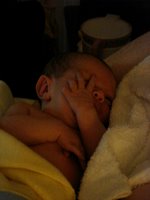 eats(which is every 2.5hrs like clock work), drinking mother's milk tea, and eating oatmeal. This has helped SOOO much with getting my supply from only getting out about 15ml total to about 2 oz every session. Ruthy is great!
We got to meet Ruthy today at her mommy zone group meeting which she holds every Friday at 11:30. She encouraged us and we set up a meeting on Sunday for her to come to the house and work with us one on one. The group was a lot of fun. t is a chance to get out of the house and meet some other mom's and their babies! Will be back!
Oh, we caught Ethan sucking his thumb on camera today! He has been doing that since the hospital but we finally remembered to take a picture today! So cute!!!
Jeff and Angela also came to visit today. It was nice seeing them and visiting for the day. Ethan had his first visit fom out of towners.