The Origins of Craftiness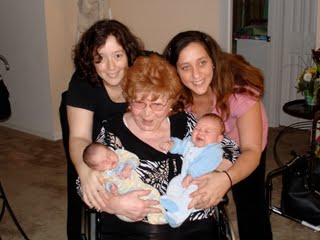 I have always loved crafts of all sorts. Grossmama, my grandma from my mom's side shown in the picture, taught me to crochet and knit the 'proper' way when I was very little and I have created things ever since. For the longest time, I was forever buying lovely yarns and creating various knit and crocheted items... you name it I probably either made one or have a pattern for one. LOL!
My Grandma, dad's side, taught me some sewing during my summer visits in Alabama, enough to be dangerous. Hehe. So as an adult I finally decided that I wanted to sew some things to give away for Christmas. So off to JoAnn's I went and ended up buying a basic Huskaverna Viking machine. It was perfect and I made a bunch of rice bags and gave them to everyone at church. I started sewing enough that I wanted a better machine.
This began my trade-in journey. Machine 1 = basic sewing machine. Machine 2 = Best sewing machine. Machine 3 = Basic Embroidery machine. Machine 4 = Top of the line Embroidery machine. Fun stuff! I am convinced that Viking has the trade-in program solely for the purpose of keeping you spending money in small enough increments that you don't realize you have spent a LOT over time. They let you trade in for another machine and will credit you the full price you paid for the first machine... as long as you do it within their time frame. And this can be repeated each time you upgrade.
So now I had the top of the line machine, the trade in scheme could stop. Right? Kinda... no more trading in machines for me. Even when they came out with the NEW top of the line fancy machine I was perfectly happy with mine since it was still AWESOME. Another 6 months went by and they had a sale. One of those stimulate the economy sales... LOW prices for a great machine. Next thing I know I bought the fancy machine (Machine #5) and am now the proud owner of 2 embroidery machines. :-) I love them and have enjoyed sewing and learning new skills.
For instance, I have been quilting, making bag holders, aprons, and many other things. I think I may even put a few things on ETSY.com and see how they do on that site. While my machines can be seen as crazy excess, I use them a lot and enjoy creating.
I am thankful that Grossmama taught me to knit and crochet, it instilled a love of crafts and creating that is very much part of who I am today! I hope I will be able to pass on the skills I have to the boys one day. Knitting, crocheting, sewing, and cooking are not just skills for girls! I hope they enjoy it as much as I do...
I sure can ramble... more later