All you need is love!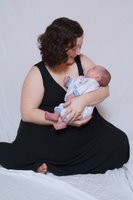 Valentines! The day to celebrate you love for another... at least that is what Hallmark wants you to think. I think it is a huge marketing ploy to get more money and make us fat (chocolates...). I think it is more important to let the ones you care about know it daily and to make sure they know you love them.... That being said we did partake in the commercialism that is Valentines day.
Ethan and I went to the mall and had our picture taken at a place that was not so good... hind sight of course... but we did get some decent pictures I guess... What do you think?