Chocolate Pudding with a secret ingredient
I was not planning on posting again today, however I just made a healthy, tasty chocolate pudding and had to share. Last week at I picked up 2 local Florida avocados and today I noticed they were finally ripe. So I made pudding. Yup. Chocolate Pudding with 'hidden' avocados. This recipe is dairy and gluten free. Quick to make and requires no cooking. Plus it is yummy with its rich dark chocolate flavor!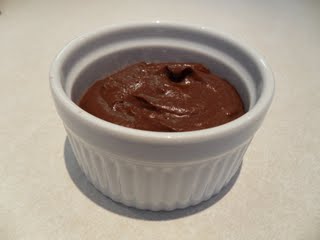 Chocolate Pudding
1/2C dates pitted and chopped (this turned out to be 10 dates for me)
1/2C+2TBS boiling water
1/3C Real Maple Syrup
2 large Florida Avocados
3/4C cocoa powder
2TBS Coconut oil, melted
1 TBS (+ a little) local honey
Combine the dates and boiling water in a small bowl and allow to soak a minimum of 4 hours (overnight works). After they are done soaking, place the dates with the soaking water and the maple syrup in the food processor and blend until smooth. Add the avocados, cocoa powder and coconut oil to the food processor and process until smooth. Taste and if you want it a little sweeter add the honey to the mix while the processor is running. If you want to adjust the consistency, add water as needed. Pour the pudding into serving dishes and chill until set.
Serves 4-6.
(You could probably sub local honey for the maple syrup if you wanted to... the ingredients and quantities listed in the recipe are what I used).