Yummy whole wheat bread
My pa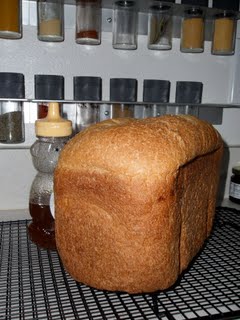 rents got me a Zojiroshi bread machine for Christmas and I have been using it quite a bit to make delicious whole wheat breads out of the Hard Spring White Wheat I grind fresh using a grain mill (Nutrimill). The fresh flour makes bread that tastes soooo much better than older flour. Today I made my staple 1.5# loaf and it got such great oven spring I had to take a picture (It is almost as tall as my honey bear!) , plus I wanted to pass on the recipe.
The Urban Homemaker website has a great recipe for bread and the version I use for the Zo is below. I weigh all my ingredients so what I list below is the weights I use



Marilyn's Famous Whole Wheat Bread Recipe (1.5# loaf for a bread machine)
(from http://articles.urbanhomemaker.com/index.php?article=450)
11.45 oz by weight water
0.95 oz by weight vinegar
16 oz by weight Fresh whole wheat flour
1.85 oz by weight Local Honey
1.5 oz by weight vital wheat gluten
2 TBS of butter
1.5tsp salt
1.5 tsp yeast
1. Let the machine mix the 1st 3 ingredients for 3 minutes then cover and let the flour soak for up to 24 hours
2. Melt the butter with the honey and pour over the pre-mixed flour
3. Add the gluten on top, place the yeast on the gluten to keep it from getting wet and add the salt off to the side.
4. Run the machine
I use the programmable function of the Zo as follows
Preheat: 30 minutes
Knead: 24 minutes
Rise 1: 45 minutes
Rise 2: 1 hour 25 minutes
Rise 3: Off
Bake: 1 hour 10 minutes
Keep warm: 1 hour
The result absolutely yummy bread!