Ethan's EEG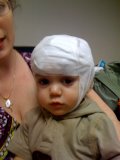 >> Hey everyone. Today was the day for Ethan to go get his EEG. This
>> really is just a precaution since the doctor is pretty sure this is
>> just your average breathholding case. But better safe than sorry.
>>
>> So per doctor orders I kept ethan up late last night (read not fun)
>> and got him up early to go to the doctors office-- with no nap. We
>> got there and were escorted to a room with a table, an exam bench
>> and a computer. The nice lady showed everything to ethan by puting
>> it on his hand first so he could check it all out and not be
>> frightened.
>>
>> She took a marker and drew dots all over his head then scrubbed
>> down each spot. Then the fun began. 20+ electrodes all gooed down
>> onto the scrubbed spots. He left them alone for a bit but
>> eventually I had to hold his hands while she finished dressing out
>> the wires and bandageing his head. Look how silly he looked;
>>