Christening Day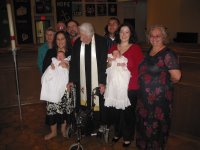 Today was a very special day... one full of history for our family. It started nearly 26 years ago when I was Christened. My great grandfather Christened me in a gown made by a friend of the family, Miss Alice, and wore his brand new black ministers gown for the first time at that ceremony. 19 years later... On May 29, 1999 at Faith Lutheran Church he married Erich in I in the same black gown. Now today, he Christened Tommy and Ethan wearing the same ministers gown he wore when I was Christened and Ethan wore the same gown I wore -- the dress Miss Alice made me. Granddaddy is not as spry as he was 26 years ago, but he is still going strong and it was very special to have him perform the ceremony using the same text for us today.
Tommy and Ethan were both Christened and they made 5 generations of Tuckers in the room.... Granddaddy, Grandpa Ray, Dad, Me and Stef, and finally Ethan and Baby Tommy. What a sight!
Danny and Emily stood with us as his godparents. It was a pretty long drive for them for such a quick ceremony, but we really appreciate it and am honored they agreed to be Ethan's godparents.
Full pictures are on our website
.