LSUcks, but Ethan is still cute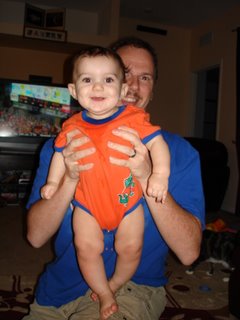 I don't want to think about the LSU loss too much since it just makes me angry. So in that respect, I am trying to block our pathetic game where we snatched defeat out of the jaws of victory.
Here is an alternate memory for that night. Fred and Susan came over and Ethan really enjoyed it. I am really taking the fear out of Ethan and making him into a daredevil... which I will eventually regret, I'm sure.