Epcot on 9/3/07!
So We went to Epcot for the first time with Ethan and met some friends there - Mary, Brad, Fred, Susan, Elaine, and Fred (I need to call Elaine and Fred to see if I can get the picture from them that has us all since i only have a few pics and none of everyone...) I must admit, I was quite nervous taking Ethan for the day, it was hot and it is at least a 50% out door activity.
Well we packed his diapers, grabbed a sling and a mei tai baby carrier and took off -- and no stroller - and yes no stroller is much eaiser! Anyway, It was a lot of fun. Ethan was great! He slept in the carrier, laughed, yanked on my hair and overall I think he had fun, no real crying episodes except when we left him with one of our friends to go on a ride. He was tired and hungry so not the best combo to leave with someone and no bottle to solve part of it...
Disney has a nice little baby care section that we visited a few times to get him to eat and to cool off for a bit. It has a private nursing room, changing room, a store with baby essentials, and a little play room -- nice little setup. My only complaint would be its location. I kind of wish Disney had 2 centers, one near the front of the park and one near the back. It sure is a long walk if you are on the other side of Epcot's world.
Here is Ethan and I in his Kozy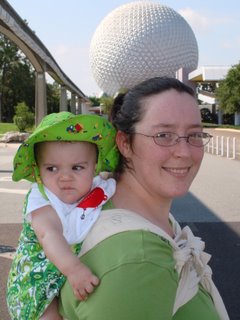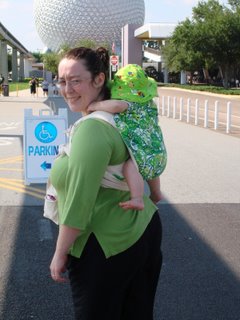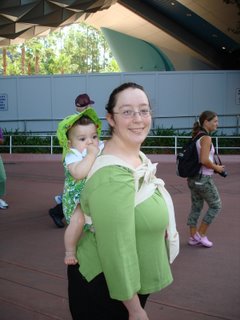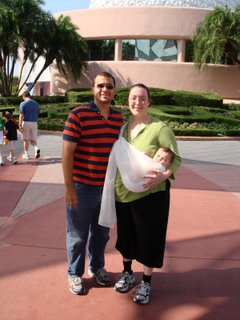 Here We are in our solarveil sling about to sleep heading home for the day
Labels: Babywearing, Epcot, vacation